Mother's located in Costa Mesa, CA has gained a reputation for having everything for specialized diets, top quality local and organic produce, the county's largest selection of supplements and all at a great value. Organic, non-GMO, vegan, vegetarian, gluten-free, low carbohydrate, low-glycemic, low-fat, low-salt and more.
Mother's has the largest selection of organic fruits and vegetables in Orange County. Their special relationship with growers means that they can guarantee freshness and quality. Mother's also has an extensive choice in natural vitamins, minerals, amino acids, herbs, homeopathics, sports nutrition and condition-specific supplements.
Mother's Market & Kitchen serves the needs of individuals. They strive to carry a wide spectrum of natural body care products that are not readily available elsewhere. In each department, their staff will help you find what you are interested in and if they don't have it, they will do their best to get it.
For more information on this market offering organic products for natural body care or to find a location near you, visit mothersmarket.com.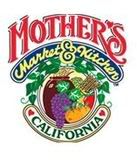 For more organic and natural food markets, follow our blog naturalsolutions-homeandbodycare.com
.